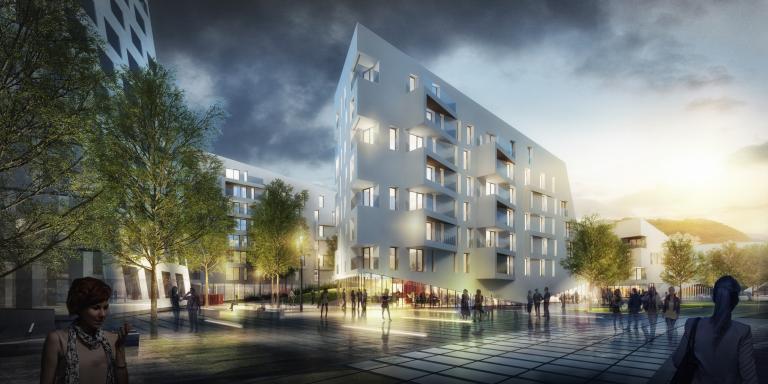 The Paradis Express project, located between Liège-Guillemins station and the "Paradis" Finance Tower of Liège, is a mixed-use eco-district spanning 39,295 m² above ground, comprising residential, office, and retail spaces.
The project, carried out using BIM, includes the construction of:
Two office buildings (B1 and B2) covering 22,142 m² above ground, including 4,311 m² of "Silver Square" coworking spaces.

Five residential buildings (L1, L2, L3, L4, L5) covering 16,652 m² above ground, including L2, a 5,377 m² building dedicated to Yust co-living (Young Urban Style).

A ONE (Office Nationale de l'Enfance) approved and subsidized daycare on the ground floor of the 387 m² L3 building.
The project also includes two underground car parks with cellars: 190 spaces for office buildings B1 and B2, and 158 spaces for buildings L1 to L5.
The residential buildings have been designed with sustainable development in mind, prioritizing energy efficiency, functionality, and optimal comfort for the occupants. The project aims for a passive rating for housing and BREEAM certification for offices.
To achieve low-energy buildings and controlled maintenance costs, the Trias Energetica principle has been utilized, which involves limiting energy consumption, prioritizing sustainable energy sources, and maximizing energy efficiency.
Our mission(s)
TPF Engineering carries out the complete mission of consulting engineer in technical building services: from the preliminary project stage to the provisional and final acceptance of the works.
Awards
Award for "Best Future Project" at MIPIM in Cannes (MIPIM Awards 2016)
Certifications
Objective : BREEAM EXCELLENT for 2 office buildings