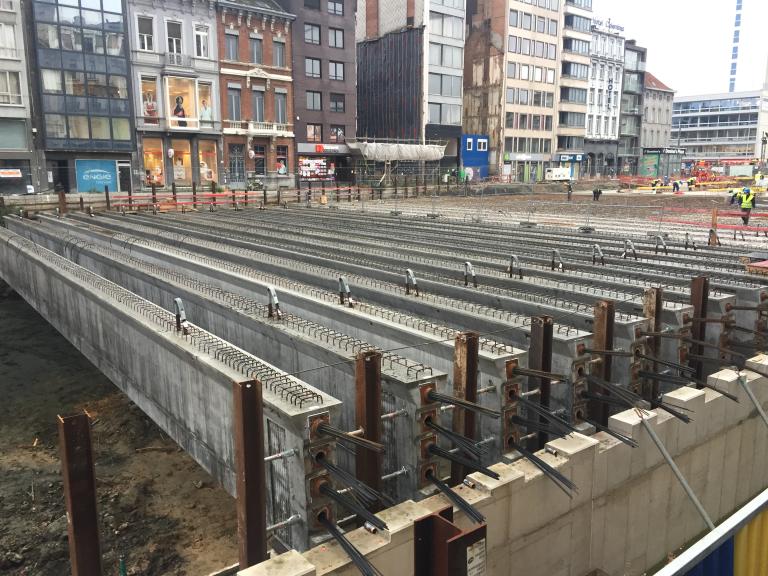 The Brabo II project aims to redevelop pre-metro lines and a car tunnel in Antwerp, including the creation of a new multimodal exchange center in the city center. The project involves building a new metro station at the intersection of an existing one, a large car park, and a tunnel for cars and trams. Additionally, the project allows for major urban redevelopment in the area in front of the Opera.
One of the main challenges of the project is carrying out major works in the city center while preserving historical structures. During the construction of underground works, historical remains were discovered and incorporated into the new structure. The project aims to modernize transportation while also preserving the architectural heritage of the city and creating a large pedestrian space on the surface.
Impressive technical means have been employed, such as constructing a road tunnel with 4 lanes suspended from 89 prestressed beams, each with a maximum length of 45 meters. The remains of an old medieval city gate, called "Kipdorpbrug," were also unearthed and maintained. A metal bridge supporting trams passes over these remains, while a tunnel for cars is located below to highlight this archaeological discovery.
The project's studies have integrated the need to maintain traffic in the city center during essential works, with the metro station remaining in service. Further towards the port of Antwerp, the old "Londonbrug" mobile port access bridge has been replaced with a new, wider bridge built on abutments designed to avoid the foundations of the old bridge and maintain the existing banks. The project has respected important phasings to allow for the passage of boats.
Our mission(s)
TPF Engineering was contacted by Bam Contractors NV to carry out a partial civil engineering mission. This includes the preparation of execution studies, calculation notes, and execution plans, as well as monitoring the construction site, taking into account the execution phasing. Additionally, our team will participate in the receptions and prepare the As Built plans.