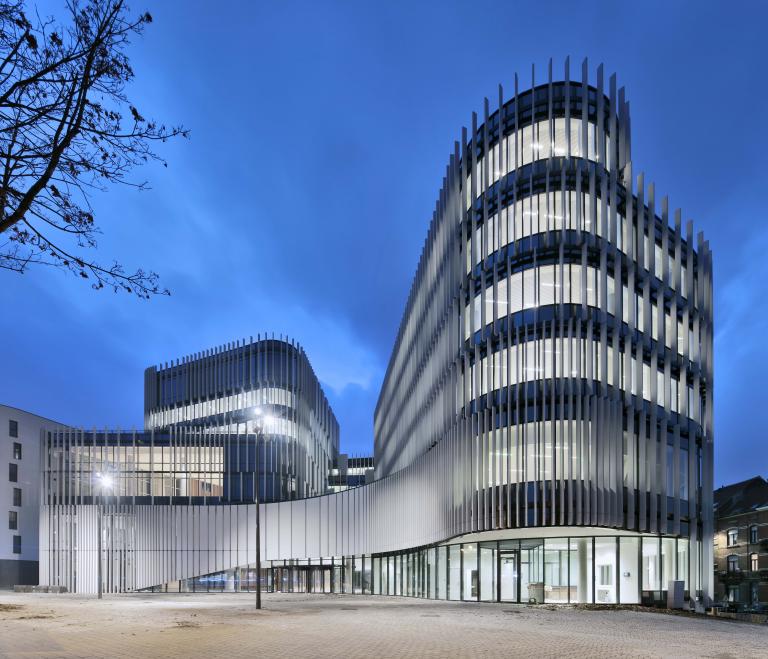 Etterbeek Administrative Center
Jardins de la Chasse
An extremely ambitious sustainability project that respects the environment and addresses energy challenges.
The site comprises an administrative center (6 levels, 14,500 m²) that brings together the CPAS, police, and municipal administration, as well as a building with 37 passive apartments. Three levels in the basement house 300 parking spaces and archiving areas.
The innovative technologies used in the building will be retained.
For instance, a heat pump connected to a geothermal field (depth of 240 m) is used for producing hot water, while two compressors that use the latest generation refrigerant and are connected to open cooling towers are used for producing cold water.
A wide open reversible dynamic ceiling was also chosen, which enables the building's inertia to be utilized for passive activation of the concrete, and a very high temperature regime can be achieved. The building's ambient temperature and CO2 concentration are also managed to minimize energy consumption. Enthalpy wheels are used to recover calories, cold, and humidity, and all motors run at variable speeds, delivering only the necessary energy without excess.
The lighting in the building consists of low-consumption LED type bulbs with absence detection. Photovoltaic and thermal panels are also utilized to reduce energy consumption.
The Technical Building Management (GTC) system, combined with communication regulation, allows flexibility in the future partitioning of the administrative center and helps monitor consumption and optimize parameters according to the occupants' habits and the building's thermal behavior.
Our mission(s)
TPF Engineering acted as a consulting engineer, overseeing the studies and execution of works for the technical building services, such as :
HVAC,
cold ceilings, Technical Building Management,
geothermal energy,
sanitary systems,
fire protection,
electricity, and elevators.
Awards
Belgian Energy and Environment Prize 2017 in partnership with Luminus

Best international building in the Public Service category in the International Property Awards 2020, awarded by professionals in the real estate sector.
Certifications
BREEAM Very Good 
2015 Passive EPB
Nearly Zero Energy Building