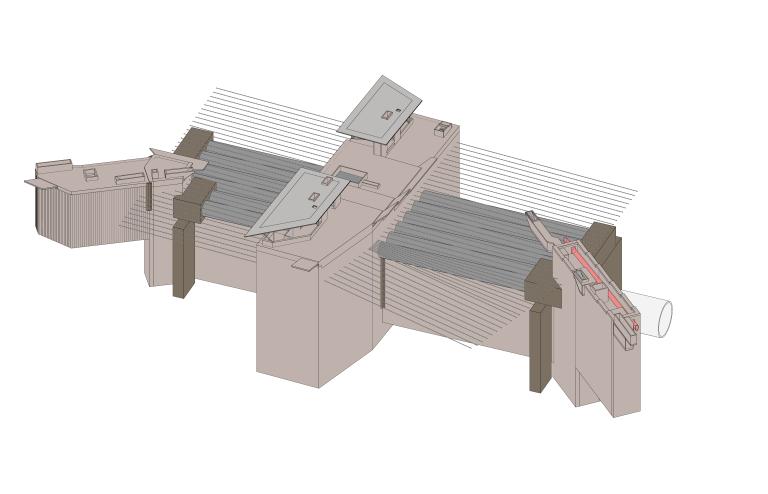 In 2009, SM Bureau Métro Nord (BMN) was tasked by Beliris to conduct a study on expanding the already efficient public transportation network. The project, known as the Métro Nord project, is designed to address mobility challenges by extending line 3 of the Brussels metro to the northern part of the city. The new line, which is planned to be an automatic metro, has the capacity to carry over 60,000 passengers annually.
The project is divided into two phases.
Phase 1 involves the transformation of the existing tunnel between Gare du Nord and Albert to accommodate the new metro line.

Phase 2 involves the construction of a 4.5 km structure that will link Bordet to Gare du Nord.
To connect these two tunnels, a 150m structure is being built under the Gare du Nord train station. Initially, the junction tunnel will serve as a rear station, allowing metro 3 to travel in the opposite direction towards Albert station. The entire metro 3 line will remain operational during the construction process.
Phase 2 also includes the creation of seven stations (Liedts, Colignon, Verboekhoeven, Riga, Tilleul, Paix, and Bordet) and a depot in Haren for storing and maintaining the metro trains.
The project is complex due to various factors:
the tunnel will be drilled in Brussels' densest district, including the listed town hall of Schaerbeek.

the connection between the new tunnel and Gare du Nord must be made without interrupting rail operations,

the structure crosses the fourteen tracks of the Gare du Nord railway hub.

the shallow depth of the water table

numerous expropriations (around 1000) presenting difficult negotiations

limited working areas and maintaining surface traffic also pose significant challenges.
To construct the metro stations, several technical solutions are being used, such as diaphragm walls, armored excavations, sheet piling, secant piles, VHP grouting, freezing, and less traditional techniques like roofing and pile drivers.
Our mission(s)
As a civil engineering design office, our team is currently focused on the metro station section of the project. TPF Engineering has partnered with SM Bureau Métro Nord for the entire engineering mission.
This includes socio-economic and strategic opportunity studies, feasibility assessments, detailed preliminary designs, and execution plans.
Our support also includes:
analysing different variants and execution techniques,

creating an international benchmark,

preparing applications for urban planning and environmental certificates and permits, including an incidence report.

analysing offers presented,

work management and supervising the construction process,

providing ongoing assistance for the acceptance of works.